CLICK

IN UPPER RIGHT CORNER TO VIEW LIST OF PAGES.
* * * * * * * * * * * * *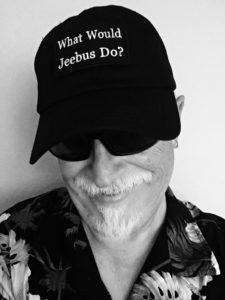 * * * * * * * * * * * * *
26.
When I walk through the door to my house, I hear Juno growling and barking at someone. It sounds like they're in the kitchen. I reach for the umbrella I keep by the front door. It's not as good as a baseball bat, but the shaft on it is an inch thick and made of some kind of hardwood. Plus, if I push the button, it opens up with an impressive snap-and-whoosh.
This might at least distract whoever is in my kitchen while I rummage around in the silverware drawer, just inside the kitchen entryway, for something with a scarier first impression, like a big knife or at least the sharp end of a meat thermometer.
I sneak up along the wall and poke my head around the corner. Then I pee myself a little.
Jeebus-fucking-Morelli is sitting at the table, with his back to me, reading the newspaper I left there, and drinking the last diet Coke from the fridge.
"Hey, Blue," he says, without turning around.
"Hey, whatever you are," I say, clutching the largest of the chef's knives my father gave me for Christmas. I use them mostly to slice McDonald's hamburgers in half to share with Lena, or to open cardboard boxes, but I appreciated the thoughtfulness of the gift. It looks like Jeebus, but, so far as I can tell, I'm not having a lucid dream. Unless the lucid dream teachers are correct and what we think is "reality" is really the dream. Whatever.
If Jeebus is now showing up in "reality," whatever that is, it is a disturbing development. I wish Lena was here so I could find out if other people can see him or I'm in need of stronger medications.
"You look startled," he says to me.
"You're fucking dead, Jeebus," I say. "I think that entitles me to a modicum of startledness. What the fuck is going on? I was willing to go with the flow when you started showing up in my dreams, but showing up when I'm awake has to be some kind of violation of the laws of physics. Just ask Neil deGrasse Tyson. Don't they have rules up there?"
"Yeah, I suppose I should have made one more dream visit to let you know I'd be stopping by," he says, "but I've been told by the higher-ups that just showing up is often more effective. Most people just ignore dreams, even dreams they wake up in. Anyway, I figured you could deal with it, and here you are dealing with it. We need to talk, Blue. You seem a trifle hostile, so I'll cut to the chase. First, do you have any coffee cake or doughnuts or anything to go with this coffee? I'm asking for a friend."
It so happens that I sneaked in a bag of chocolate doughnut holes I got at Safeway and hid them well back on the top shelf in the cupboard, where Lena wouldn't find them. I retrieve them now and pour myself a cup of coffee. My wits are starting to revive and gather about me and I decide to make the best of this.
I sit down and look at Jeebus for a moment. One unfair thing about this whole Jeebus-is-fucking-with-me thing is that he looks like he did the day he hung himself, except the ligature marks on his neck are mercifully absent. In fact, his neck is without a wrinkle or any of that extra turkey skin that I have to look at in the mirror every morning. I love the guy, and underneath the weirdness of his reappearance, I am thrilled to be talking to him again. It just seems like there should be consequences when you off yourself.
"Okay, Jeebus," I say, "I'll play along. I still think it's just a matter of increasing the dose on my meds and whatever this is will evaporate, but here we are. What's on your mind?"
"Great, Blue," he says. "Maybe now we can make some progress. Let me ask you, do you have a purpose in life?"
"Yeah," I say, "I sure do. I want one thing out of life before I walk off the edge into the void. I want to live just one fucking day when I wake up and don't want to perform a frontal lobotomy on myself with a handgun. A day when I think to myself, while I'm adjusting the hot water in the shower, I love my work. Thank you Jesus! It's not always easy, but today I'm going to move that Farm Animals Have Rights Too!social media campaign a few more steps toward the finish line. I look around and see some people who get to work at things they actually give a single shit about. That's my purpose in life. One fucking day of that. Does that answer your question?"
A work-in-progress to be published Winter, 2018.

CLICK

IN UPPER RIGHT CORNER TO VIEW LIST OF PAGES.