This video has nothing whatsoever to do with the subject of this post:

But, these old '90s beer ads are still kind of funny and I did steal their tagline. Attribution was called for. (And I do wonder what advertising wunderkind thought it was a good idea to put dry in the name of a beer. Why? I haven't had one in 12 years, 348 days, but back before I admitted my allergy to alcohol, I didn't pull a beer out of the fridge because I wanted to feel even more dry.)
I have wasted more time asking why than I want to think about. (Sometime in my 20's I decided the thing to do when you're lying in bed is to take advantage of the solitude to figure things out. Forty-plus years later I am unable to shake the habit. I resist, even resent, having to use bedtime for sleep.)
Feeling compelled to figure out why has not served me well:
"Why go back to school and get a graduate degree in English, when I already have this law degree?" "Because I really want to, and I applied and was accepted into the program, and maybe it would mean I could do something I really love," turned out to not be a good enough answer for me. I never showed up for class.
"Why spend all that time and effort and money when the trip to (wherever) will be over in a week or two and after awhile it'll be like I never went?" Too often it's been easier to just not go.
"Why change things around? I'm doing okay with things the way they are." Okay has become the end game.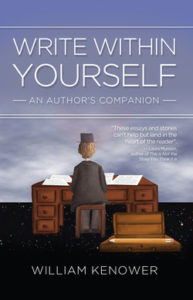 Which brings me to this chapter from Write Within Yourself by one of my favorite writers about writing (and living), Bill Kenower: I Don't Know Why.
In case you don't click through to the whole article, here's the best part, IMHO: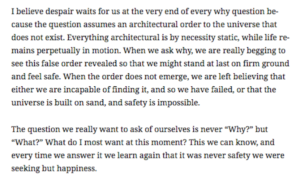 Why didn't I know this forty years ago? I would be getting a lot more sleep, probably in some interesting places. I might have written a few books or taught some classes about something – writing and literature – that I love. At the very least, I'd know more about it than I do.
You know what? I'm in catch-up mode from here on out, but I insist it's not too late to stop asking why?